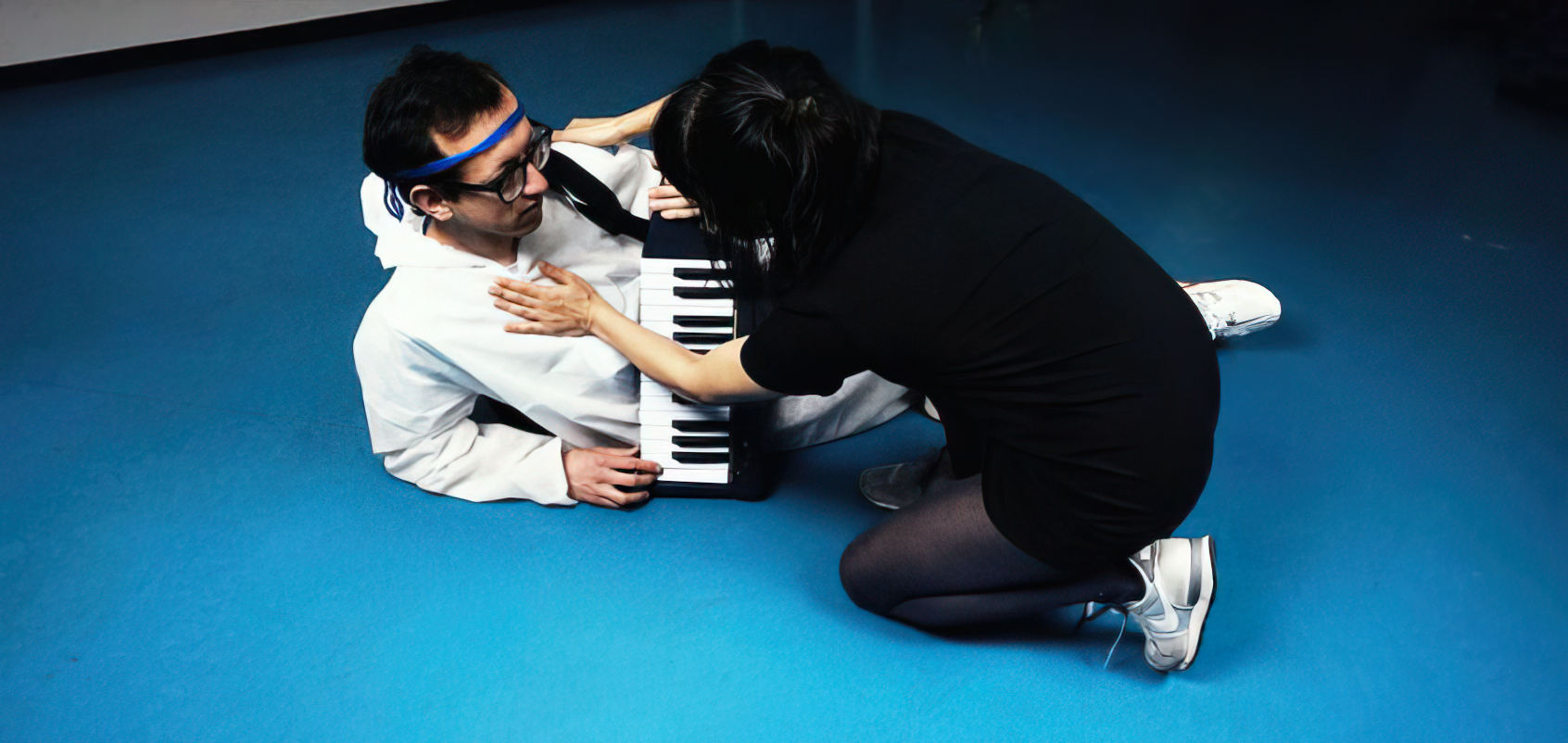 8-Bit Funk Mix for Secret Thirteen
---
A couple of years ago, I invited Justinas Mikulskis (founder of Lithuania-based underground music journal Secret Thirteen) and his girlfriend for lunch at De Buurtboederij: a care farm (social work place) hidden in a park in Amsterdam. We got to enjoy the sun and awesome Dutch pancakes. I think this was the moment when Justinas got the idea to send me on a mission to make an alternative 8-bit/chiptune music mix. And so it happened (eventually….).
You can listen to my mix on the Secret Thirteen website: https://secretthirteen.org/stm-298-diskette-deluxe/, which is accompanied by a wonderful editorial written by S13 writer Dijana Grubor. Or listen via the Mixcloud embed just below:
The mix was featured on Create Digital Music, thank you Peter!
This lo-fi mixing endeavour inspired me to philosophise a bit about my passion for chiptune/8-bit music.
---
I wrote the following:
The past 30 years, I've never been able to escape from the uplifting, funky energy of chiptune (8-bit) music… and I've never completely understood why. Perhaps chiptune holds the same aesthetic potential as pop music: it allows itself to be shamelessly affective and playful.
Chiptune can give me goosebumps and make me cry, what more reasons do I need to enjoy it? Ironically, as an avant-garde composer, I've been doing the opposite: to look for sound that moves away clear emotions, in order to find new spiritual depths. But I find that there is neither truth on the emotional nor on the abstract side of music: in the end, music and life are just absurd.
Kraftwerk said: "We always thought that many people are robots without knowing it. The interpreters of classical music, for example." And that is precisely the paradoxical humour that made Kraftwerk human. In chiptune, there is no escaping from robotics: the textures are inhuman and inorganic by default, with each computer expressing a slightly different character (just like humans), unlike nowadays where all computers can sound like one another. I've always loved the Commodore Amiga character most, hence you'll find many Amiga tracks in this mix.
My favourite chiptune has stolen all its influences (from pop, prog rock, funk, (italo) disco, reggae, baroque, Chinese traditional music, and what not) and disregarded the idea to sound "human", warm, organic, original, or any of those notions (which are often very esoterically misused anyway). The evolution of chiptune was powered partly by video game culture, and partly by hacker/cracker (demoscene) culture. I think composers on both sides of that spectrum had a healthy sense of absurdity: how else could you get the idea to translate the complex instrumentation of for example progressive rock music to computers that could produce on the simplest of sounds?
The makers of chiptune composing software (trackers) were equally as creative, they implemented the sound design and composition tricks that still can't be executed with modern software to this day. Goethe said (freely translated): "It is precisely because of limitations that we can discover virtuosity."
---
Mix Tracklist
1] 0:00 – Goto 80 – Break3A [Rebel Pet Set, 2005] (made on Commodore 64)
2] 1:00 – Ryu Umemoto Memorial Page (梅本竜) – "Spiral" from the NEC PC-9000 game "Desire (デザイア) ~Spiral of Perversion~" [C's Ware, 1998]
3] 3:20 – Martin Iveson (now Atjazz) – "Moody Breeze" from the Commodore Amiga game "Jaguar XJ220" [Core Design, 1993] (made on Commodore Amiga)
4] 6:30 – Simon Stålenhag – "Ripple Boogie" [Ubiktune, 2011] (made using Yamaha FM7)
5] 9:40 – elmobo/Frédéric Motte (originally called Moby) – "Groovy Thing" (Remastered) from the Amiga demo "Dreamdealers" by demogroup Inner-Vision [ranked 1st in the demo compo at demoparty "Iris New Year Conference", 1991]
6] 12:45 – elmobo/ Frédéric Motte (originally called Moby) – "88, Funky Avenue" (Remastered) [ranked 2nd in the music compo at the demoparty "Iris New Year Conference", 1991](made on Commodore Amiga)
7] 15:45 – Martin Iveson (now Atjazz) – "Title" from the Commodore Amiga game "Jaguar XJ220" [Core Design, 1993]
8] 18:05 – Firefox & Danko – "Galaxy II" [ranked 1st at the 4-channel music compo at demoparty "Phenomena and Censor Party", 1990]
9] 21:40 – Excerpt of Firefox & Tip – "Hyperbased" from the Amiga demo "Enigma" by demogroup Phenomena [ranked 1st at demoparty Anarchy Easter Party, 1991]
10] 22:15 – Xtd – Knick-Knack [1995] (made on Commodore Amiga)
11] 23:45 – Friendship "Let's Not Talk About It" [Elektra Records, 1979] covered by Dimeback [self-released, 2019]. Made with Famitracker (NES/Famicom/2A03 sound). Mashes in a few elements of Koji Kondo's "Underworld Theme" from the NES/Famicom game "Super Mario Bros." [Nintendo, 1985]
12] 26:05 – Peer – Dance3 [Pause (II), 2010] (made on Nintendo Gameboys)
13] 30:10 – Fearofdark – "Don't Go Outside" [Ubiktune, 2017]
14] 34:30 – 52:40-56:10 – zinger & bacter – "Sky Stroll" [ Ubiktune, 2011] (made using Yamaha FM7)
15] 38:05 – dogs++ – "Hot Poppers" [CheapBeats , 2019] (made using LSDJ 6.8.2 for Nintendo Gameboy)
16] 40:20 – Allister Brimble – "Menu" from the Commodore Amiga Game "Body Blows Galactic" [Team 17, 1993]
17] 42:06 – Katakura Mode – "リラックス広場" (Relaxation Square) [Yotsuchi Records , 2014] (made using KORG M01 for NINTENDO DS)
18] 44:05 – George & Jonathan – "Out With My Girlfriends" [2010] (made in PxTone Collage for Windows)
19] 45:50 – Chipzel/Niamh Houston – "Come On Down (Character Select)" from the PC game Dicey Dungeons [Terry Cavanagh, 2019]
20] 46:45 – elmobo/ Frédéric Motte (originally called Moby) – "Dragonsfunk" [1990] (made on Commodore Amiga)
21] 49:30] – cTrix – "DX Heaven" [Bleepstreet, 2013] (made on Commodore Amiga)
22] 53:10 – Jester – "Stardust Memories" [World of Commodore 92, ranked 2nd in trackmo compo, 1992]
23] 55:15- Dizzy – "Banana Split" [ranked 24th in the Amiga Music compo at demoparty The Party, 1993]
24] 56:50 – ProtoDome – "Wingroovin.mid" [703089 Records DK, 2018]
25] 58:40 – Koshiro Yuzo (古代 祐三) – "Player Select" from the Sega Megadrive/Genesis game "Street of Rage" [Sega, 1991] (distorted remix by me)
---
Hashtags: lo-fi funk, italo, demoscene, cracktros, chiptune, synthpop, 8-bit, FM synthesis, Nintendo Gameboy, Sega Megadrive / Genesis, Commodore Amiga, C64, etc.